Here at Brookelynn Bichons in Many, Louisiana, it is our pleasure to bring puppies to loving households. Read what some of them have to say.
Lyle and Valerie Hunter of Harvey Louisiana are the proud owners of a loving little Bichon Frise. Her name is Ahsha and she has given our family so much love and joy. The overall process of getting our new pup was smooth and painless. Working with Kathy and Cassidy was a joy!
Cassidy,
We bought Bella from you in November 2016. We have had her about 8 months now. I appreciate you answering all my questions about breeding her and taking care of her. We have a male bichon named Buck and are planning to raise at least one litter of puppies. They have become a part of the family and we enjoy having them. You really know your Bichons! Thank you
- Kerry and Jennifer
Waco, Tx
We began searching for a special Bichon Frise puppy in 2014. We came across pictures of some puppy Bichons online and contacted the breeder, Cassidy Byles. We had never owned a puppy before so we had tons of questions and concerns. Cassidy responded quickly to all of our questions. She is very knowledgeable about this breed and has a genuine love for all of her babies. They are very well cared for. Our Sammy was born November 10, 2014.
We scheduled a pick up day a few days before Christmas and were so excited to add Sam to our family. Cassidy continued to answer any questions I had after we brought Sammy home. We still continue to correspond and she is always asking about how Sam is doing. Sammy is very lovable and so smart! I would definitely purchase another Bichon Frise from Cassidy Byles with Brookelynn Bichons. She was a pleasure to work with and very professional.
- Shannon Biggs
Lafayette, LA
Brookelynn Bichons produce beautiful Bichon Frise'. Cassidy and her mother work with the puppies to ensure the puppies are relaxed when being handled. They also are choosey as to whom they sell the puppies. When I decided to investigate getting another Bichon, I saw a picture of a couple of Cassidy puppies I could not resist inquiring. Cassidy checked me out through text with me and other means before she was willing to sell me a puppy. But I decided the time was not right for me to have a puppy and I gave that information to Cassidy. About six weeks later I got a text from Cassidy inquiring if a better time for a puppy was now and if so the puppy I had considered was available.

When I went to pick Devin up, I was concerned as to his size. He was just a little over 3 months old. (I was comparing his size to an 8 week old puppy, the age and size all of the other Bichons I had when they came to live with me.) I was told if I later decided he was "too much for me" they would take him back.
All the next year I frequently received a text from Cassidy inquiring as to how he was doing and giving me suggestions. As you see from his picture he is a fine specimen of a Bichon. His coat is very thick. They prepare their puppies for transition and are very concerned the puppies are in a good home.
I would recommend you check their puppies out, if you are looking for a pet or a Bichon for showing.
We were looking (for my daughter) for a non-shedding puppy that would grow to no more than 25 lbs. I came across Brookelynn Bichon on Facebook. I contacted Cassidy and we chatted back and forth via Facebook and phone. After seeing pictures of the puppies and chatting with her Vet, we decided to drive to Louisiana to pick up Betty White. We brought her home in April 2016 where she became fast friends with our daughter and our 70lb Labradoodle. Betty White loves all people and other dogs. She is maternal in nature, very smart and communicative with some attitude thrown in.

Cassidy has continually asked for pictures and updates on Betty White. You can tell she really takes care of these babies and loves them. I would certainly recommend Brookelynn Bichon!
- Dava Smith
Brentwood, TN
We would highly recommend Brookelynn Bichon if you are interested in having a Bichon puppy. Cassidy is very knowledgeable about Bichon's. You can tell how much she loves them and how she keeps you informed about their development before you bring them home. When Cassidy was sick and in the hospital she continued to send me messages asking how Beaux was doing. Cassidy continues to send me messages wanting to know how Beaux is doing! I would highly recommend Cassidy and Brookelynn Bichons!

- Donna Bradford
Lake Charles, LA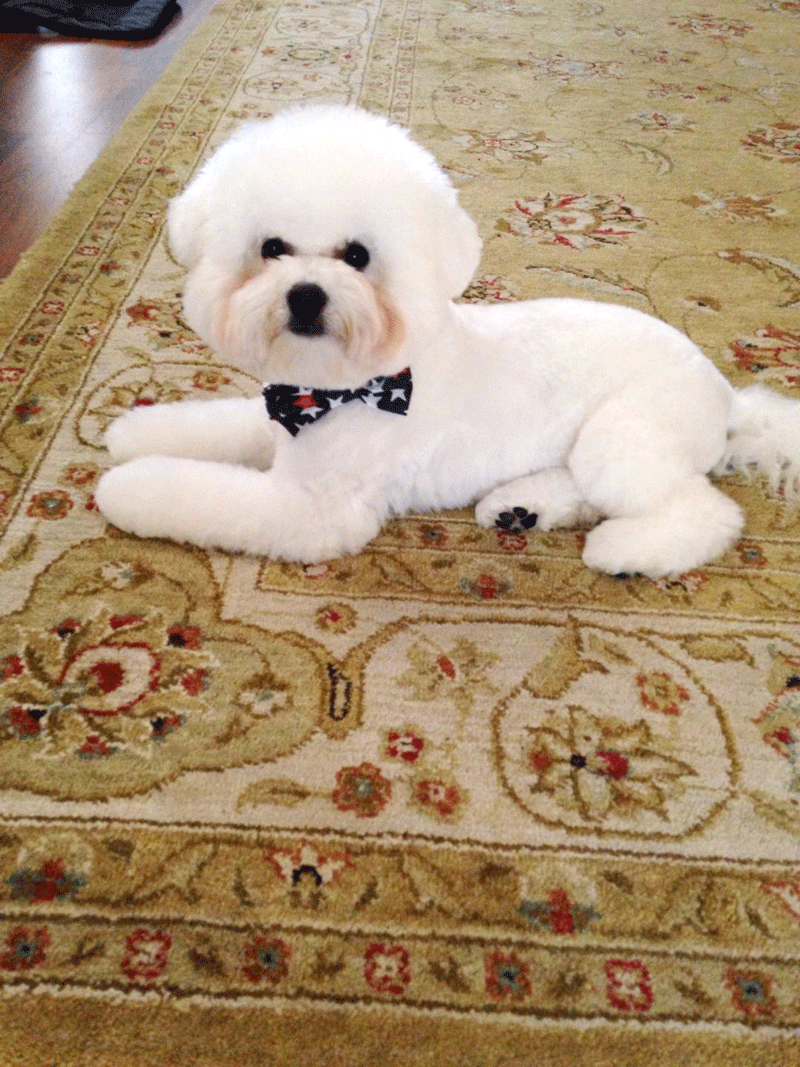 I'm so glad I found Cassidy. We got our precious Bichon on August 16, 2017. Cassidy made everything so easy for us especially with us being 4 hours away. When I contacted her the puppies were only a couple weeks old. Cassidy sent my daughter and I pictures of the puppies for us to choose one. She asked me what type of personality we wanted in our dog and I told her. As she got to know the puppies she told us which one she thought would fit our family. She matched us perfectly. We couldn't be happier. Paisley (our puppy) loves to play and chase the kids. She is so much fun. If you are looking for a Bichon you can't go wrong with Cassidy. She takes excellent care of each and every puppy and they are so loved. If I decide to get another Bichon we will definitely be calling Cassidy Byles

In June of 2017 our journey began when my husband, David, talked to Cassidy about getting a Bichon Frise puppy. Cassidy was wonderful to work with. Though current puppies were sold out her dog, Ginger was expecting within a couple of weeks. Cassidy would call and text with updates regularly. On June 21st our sweet Gracie was born. Cassidy sent us a picture of the puppies within the first couple of hours after birth. We knew we wanted an active puppy with a sweet disposition. Cassidy watched the litter as they grew and was able to deliver not only a beautiful, sweet Bichon Frise puppy but one that has a little "spunk" too! Getting Gracie has been a very pleasant experience and I attribute that to the professional knowledge of Cassidy and Brookelynn Bichon. If you are looking for a Bichon Frise puppy I highly recommend Brookelynn Bichon!

David & Cathy Kern
Katy, TX
Do you have a message or question for us? Please don't hesitate to contact us because we would love to hear from you.
Monday to Sunday: 7:00 AM – 11:00 PM
/